Meet the challenges of HR management with an educated response
Today's human resource professionals are tasked with a multitude of roles. Once you've hired the right people how do you train and develop them for leadership within your organization? You must have a place in executive decision-making to be sure your culture is clearly defined and procedures in place for change management, growth and responsiveness, and measuring HR's own effectiveness within the organization.
You need knowledge to do it all well.
Make sure you have all the tools you need for effective HR leadership with your choice of two master's degrees in human resources from Central Michigan University.
Master of Business Administration with an Emphasis in Human Resource Management
A career in human resources can be immensely rewarding as you work with the human capital of an organization. Human Resource managers strive to improve the overall experience for employees and contribute vital input to a company's business strategy as it relates to its people. This 36 credit-hour AACSB accredited online MBA program provides a solid foundation in core business principles and can help you achieve upper-level positions in human resource management.
Master of Science in Administration with a Concentration in Human Resources Administration
Offered online and face-to-face at many of our centers across the U.S., this 36 credit-hour program advances your own career while helping your fellow employees reach their highest potential. This interdisciplinary program teaches you how to master complex employment issues related to labor relations, staffing, training, leadership, and organizational development. No GMAT or GRE is required.
Attention SHRM-CP's, SHRM-SCP's, PHR's & SPHR's:
You've already earned 6 or 9 credits toward your Master of Science in Administration degree with a Concentration in Human Resources Administration! The Certification-to-Credit Program at CMU's Global Campus is the perfect way to apply your professional certification to the MSA degree you want – saving you time and money! Find out more here.
Are you involved in Training and Development?
CMU offers two different master's degrees for trainers:
Master of Arts degree in Education/Training and Development
Master of Science in Administration degree/Training and Development
Which one is the best fit for you?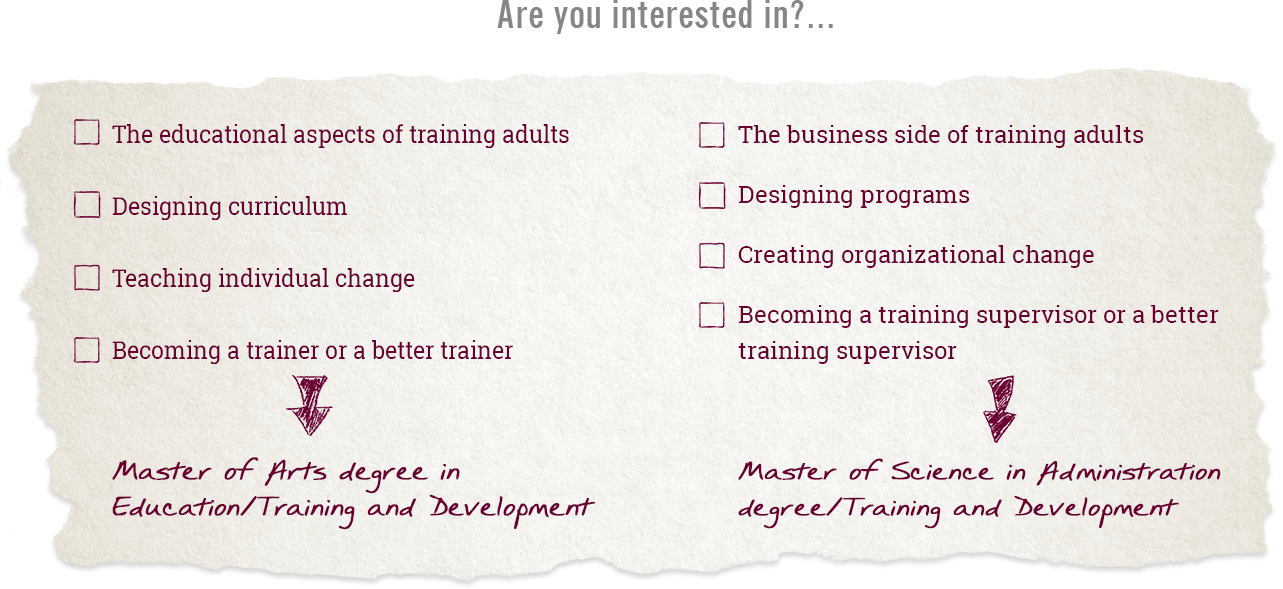 Your next career move is waiting… Let's work together and get you there.
Download an information packet to get started today!
---
As a member of the Federal Alliance program, CMU's Federal Employee Discount for employees, spouses and dependents applies to this program. More information at global.cmich.edu/FED.